---
Read Me • About Dwarfstar • Downloads • INDEX • Thanks • New • Discussion Board
ABOUT THE WEBSITE
Using the site and playing the games
GENERAL INFO

Dwarfstar Games was a line of small-box science fiction and fantasy themed boardgames published in 1981 and 1982 by Heritage USA. For more information about the history of the Dwarfstar Games line, see the About Dwarfstar page.

Reaper Miniatures has graciously granted limited permission for you to download and print six of these games, for your personal use. The designer of Star Smuggler has granted the same limited permission for his game.

While this site was created in conjunction with permission granted by Reaper Miniatures, this site was not created by Reaper Miniatures and they are not responsible for the content posted here.

The page devoted to each Dwarfstar game contains the descriptive text from the back of the game box, scans of the front and back of the box, selected quotes regarding the game, links to other websites related to the game, references to vintage magazine articles, and a set of game files for download.

GET THE GAMES

In order to play these games, you will need to download files for the rules, map, and counters. Sometimes you will have to download additional files for charts, scenarios, and other booklets.

For your convenience, the recommended downloads (typically the fewest files required for play) are marked with asterisks.

Please note that the page numbers in the PDF and Word files do not correspond to the page numbers in the original rulebook.

BUILD THE GAMES

Reconstructing your own physical copies of the Dwarfstar games will take some time and effort. Here are a few sites with tips and suggestions for assembling DTP (desktop published) games:

Timothy Stevenson constructed this homemade copy of Goblin.

WEBSITE IMAGES

My main goal was to get these games out to game players, not to achieve graphic perfection. Image quality may vary, and in some cases you are offered your choice of PDF, Word, and JPeg files to work with.

Although JPeg scans of the original rulebooks are included here, they are primarily intended for reference purposes (with the exception of the Grav Armor scenarios, which are only available as JPeg scans). The PDF or Word files more should prove more convenient for viewing and printing the rules.

There are no JPeg scans for the Barbarian Prince booklets. This is because someone else provided the Word files, which saved me the trouble of scanning in 72 more pages!

VOLUNTEER ASSISTANCE WELCOME! Want to spice up our PDF files, improve our Word files, or submit better quality scans? Sounds good to me! Your effort will be acknowledged if your creations are posted, but please e-mail first to make sure someone else isn't already working on an "upgrade."

I would especially like to see all of the game charts converted to PDF and Word format. Same for the Grav Armor scenarios. See the Barbarian Prince PDF files for an idea of what I am looking for.

DISCUSS THE DWARFSTAR GAMES

I have created a Yahoo! Groups Dwarfstar Discussion Board to discuss this website, and the Dwarfstar Games in general. Please visit the Discussion Board and share your comments! The Discussion Board is also where you will find important announcements regarding the Dwarfstar web site.

NO IMAGES OR DOWNLOAD FILES?

If you are not seeing any images, or cannot access the game files for download, then you may need to change settings in your firewall or internet security software. This site needs to access your "referer" site information. If your software blocks this "referrer" information, images will not load and you will not be able to download files. (In Norton Internet Security, this is the privacy setting allowing "information about visited sites.") Please consult your software manual or technical support for more information on how to change your settings, as we cannot provide such technical assistance.

OTHER QUESTIONS OR COMMENTS?

Please access the Discussion Board for any other questions or comments regarding this website.
---
READ ME • About Dwarfstar • Downloads • INDEX • Thanks • New • Discussion Board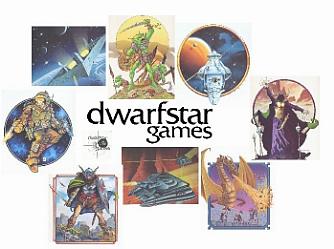 since April 9, 2004
The Dwarfstar games BARBARIAN PRINCE, DEMONLORD, GOBLIN, GRAV ARMOR, OUTPOST GAMMA, and STAR VIKING are copyright © by Reaper Miniatures.
All other company names, game names, artwork, publications and other products are copyrighted, trademarked and/or registered as applicable by their rightful owners.
All other contents of the Dwarfstar Games site are copyright © 2004-2006 by Joseph Scoleri III.