---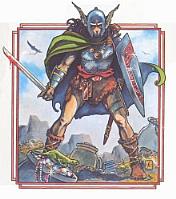 BARBARIAN PRINCE
A Game of Heroic Combat in a Forgotten Age of Barbarism and Sorcery
© 1981, © Reaper Miniatures
Designed and Developed by Arnold Hendrick.
Cover Painting: Frank Cirocco. Map, Rule Illustrations, and Graphics: Cynthia Sims Millan. Typography: Arnold Hendrick. Figure Design: Max Carr.
---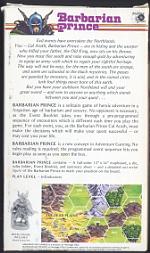 Evil events have overtaken the Northlands. You -- Cal Arath, Barbarian Prince -- are in hiding and the usurper who killed your father, the Old King, now sits on his throne. Now you must flee south and raise enough gold by adventuring to equip an army with which to regain your rightful heritage. The way will not be easy, for the men of the south are strange, and some are schooled in the black mysteries. The passes are guarded by monsters, it is said, and in the ruined cities lurk foul things never born of this earth. But you have your stubborn Northland will and your great sword -- and woe to anyone or anything which stands between you and your quest . . .
BARBARIAN PRINCE is a solitaire game of heroic adventure in a forgotten age of barbarism and sorcery. No opponent is necessary as the Event Booklet takes you through a pre-programmed sequence of encounters which is different each time you play the game. For each event, you, as the Barbarian Prince Cal Arath, must make the decisions which will make your quest successful -- or may cost you your life.
BARBARIAN PRINCE is a new concept in Adventure Gaming. No rules reading is required; the programmed event sequence lets you begin play as soon as you open the box.
BARBARIAN PRINCE contains -- A full-color 12"x 14" mapboard, a die, rules folder, Event Booklet, and summary sheet -- and a detailed cast metal figure of the Barbarian Prince to mark your position on the board.
PLAY LEVEL - Introductory
---
"The amount of detail is amazing, the replay value impressive, the rules systems staggeringly smart."
- Rick Swan in Wargamer Vol. 2, #19.
"Arnold's rules are so well written that one can begin play literally within two minutes
of opening the box." - David J. Ritchie in Strategy & Tactics #88.
"This writer gives Barbarian Prince four gold stars." - Glenn Rahman (designer of Divine Right) in Dragon #54.
"Barbarian Prince's good points far outweigh the bad." - Tony Watson in The Space Gamer #47.
"Each time I play ... things are always different. What's more, I haven't won a game yet."
- Matthew Costello in Gameplay #4.
"Twenty-three games at this bloody thing and I've only managed to win SIX!"
- Bill Watkins in Nexus #1.
"In thirty odd attempts I have not met the victory conditions ... a colorful and absorbing game."
- Bill Skirrow in White Dwarf #29.
"Barbarian Prince is not advertised as a super difficult game, but it is very difficult to win."
- Arnold Hendrick in The Space Gamer #47.
---

COMPONENTS
1
folding cardboard mapboard
1
metal Barbarian Prince figure
1
24 page rulebook
1
48 page events book
1
travel and event tables sheet
1
summary sheet
1
six-sided dice

---
MAGAZINE REFERENCES
Magazine Issue
Date
Title (Subject)
Author
Strategy & Tactics #88
Sep-Oct 1981
"Briefings" (capsule review)
David J. Ritchie
Dragon #54
Oct 1981
"A solo game that stands alone" (capsule review)
Glenn Rahman
Ares #12
Jan 1982
"Games" (capsule review)
Steve List
The Space Gamer #47
Jan 1982
"Featured Review"
Tony Watson
The Space Gamer #47
Jan 1982
"Designer's Notes"
Arnold Hendrick
White Dwarf #29
Feb-Mar 1982
"Open Box" (capsule review)
Bill Skirrow
Nexus #1
Apr-May 1982
"Barbarian Prince" (review)
Bill Watkins
Dragon #68
Dec 1982
"Beg, Borrow, or Steal? Six ways to aid Cal Arath's
cash flow" (variant)
Glenn Rahman
Gameplay #4
May 1983
"Gaming for One" (mentioned)
Matthew J. Costello
Fantasy Gamer #2
Oct-Nov 1983
"Murphy's Rules" (humor)
Karl Dishaw
Wargamer Vol. 2, #19
Mar-Apr 1990
"A Connoisseur's Guide to Solitaire Games" (mentioned)
Rick Swan
---

DOWNLOADS
PLEASE NOTE:
These games and files are NOT released into the public domain.
You MAY NOT not sell these files or charge a fee for access to them.
You MAY NOT distribute these files except as authorized by Reaper Miniatures.
PLEASE RESPECT THE TERMS OF THE DISTRIBUTION AGREEMENT
so that these files can remain available for free download.
Please read the entire Distribution Agreement
before downloading any files from this site.
By downloading any files from this site, you are certifying
that you have read the agreement and will abide by its terms.
Download ZIP of all recommended game files
* The recommended file downloads are marked with an asterisk *
Thanks to Ron Shirtz, we now have a one-piece map scan for large format printers - download the jpeg below!
---

since April 9, 2004
The Dwarfstar games BARBARIAN PRINCE, DEMONLORD, GOBLIN, GRAV ARMOR, OUTPOST GAMMA, and STAR VIKING are copyright © by Reaper Miniatures.
All other company names, game names, artwork, publications and other products are copyrighted, trademarked and/or registered as applicable by their rightful owners.
All other contents of the Dwarfstar Games site are copyright © 2004 by Joseph Scoleri III.