---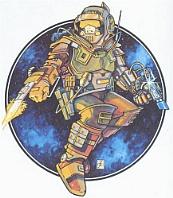 OUTPOST GAMMA
A Game of Man-to-Man Combat on a Colonial World of the Far Future
© 1981, © Reaper Miniatures
Game Design: Howard Barasch.
Graphic Design: David Helber (including map, counter, and rules artwork). Box illustration: Frank Cirocco. "Historical Information" written by Ed Andrews and David Helber.
---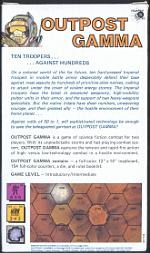 TEN TROOPERS . . .
. . . AGAINST HUNDREDS
On a colonial world of the far future, ten hard-pressed Imperial troopers in mobile battle armor desperately defend their base against mass assaults by hundreds of primitive alien natives, rushing to attack under the cover of violent energy storms. The imperial troopers have the latest in advanced weaponry, high-mobility pulsor units in their armor, and the support of two heavy-weapons specialists. But the native Irdans have sheer numbers, unwavering courage, and their greatest ally -- the hostile environment of their home planet . . .
Against odds of 50 to 1, will sophisticated technology be enough to save the beleaguered garrison at OUTPOST GAMMA?
OUTPOST GAMMA is a game of science fiction combat for two players. With its unpredictable storms and fast-playing combat system, OUTPOST GAMMA captures the tension and rapid-fire action of high versus low-technology combat in a hostile environment.
OUTPOST GAMMA contains -- a full-color 12"x 14" mapboard, 154 full-color counters, a die, and rules booklet.
GAME LEVEL - Introductory/Intermediate
---
"I recommend Outpost Gamma without reservations . . . you'll get far more than your money's worth."
- Bruce F. Webster in The Space Gamer #44.
"These first four releases from Dwarfstar Games are definitely above average. I think, however, that Outpost Gamma is the least interesting of the four." - Kevin Pollock in Campaign #106.
---

COMPONENTS
1
folding cardboard mapboard
154
die-cut counters
1
24 page rulebook
1
six-sided die

---
MAGAZINE REFERENCES
Magazine Issue
Date
Title (Subject)
Author
The Space Gamer #44
Oct 1981
"Capsule Reviews"
Bruce F. Webster
Campaign #106
Nov-Dec 1981
"Thumbnail Analysis" (review)
Kevin Pollock
Ares #12
Jan 1982
"Games" (capsule review)
Steve List
---

DOWNLOADS
PLEASE NOTE:
These games and files are NOT released into the public domain.
You MAY NOT not sell these files or charge a fee for access to them.
You MAY NOT distribute these files except as authorized by Reaper Miniatures.
PLEASE RESPECT THE TERMS OF THE DISTRIBUTION AGREEMENT
so that these files can remain available for free download.
Please read the entire Distribution Agreement
before downloading any files from this site.
By downloading any files from this site, you are certifying
that you have read the agreement and will abide by its terms.
Download ZIP of all recommended game files
* The recommended file downloads are marked with an asterisk *
---

since April 9, 2004
The Dwarfstar games BARBARIAN PRINCE, DEMONLORD, GOBLIN, GRAV ARMOR, OUTPOST GAMMA, and STAR VIKING are copyright © by Reaper Miniatures.
All other company names, game names, artwork, publications and other products are copyrighted, trademarked and/or registered as applicable by their rightful owners.
All other contents of the Dwarfstar Games site are copyright © 2004 by Joseph Scoleri III.