---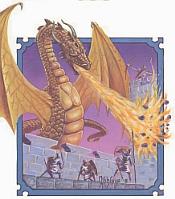 DRAGON RAGE
A Game of Mythical Creatures Versus a Walled City
© 1982
Design: Lewis Pulsipher. Development: Lewis Pulsipher and Arnold Hendrick.
Graphic Design: David Helber, including map and counter art, with Tom Maxwell. Cover Art: Kenn Nishiuye.
---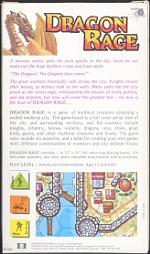 A nervous sentry spies the twin specks in the sky. Soon he can make out the huge leathery wings and long necks.
"The Dragons! The Dragons have come!"
The great warhorn frantically calls across the city. Knights mount their horses, as archers rush to the walls. Many years has the city stood at the forest edge, withstanding the attacks of trolls, goblins, and sea serpents, but now will come the greatest test - for now is the hour of DRAGON RAGE. . .
DRAGON RAGE is a game of mythical creatures attacking a walled medieval city. The game-board is a full color aerial view of the city and surrounding territory, and the counters include knights, infantry, heroes, wizards, dragons, ores, trolls, great birds, giants, and other mythical creatures and beasts. The game rules include six scenarios, and a table for creating your own games with different combinations of monsters and city defense forces.
DRAGON RAGE contains -- A 12"x 14" full color map/playing board, 154 full color counters, two dice, and a complete rules booklet with 6 scenarios.
PLAY LEVEL - Introductory/Intermediate. Ages 12 and older.
---
"A deceptively simple game system that provides exciting play and a realistic feel." - Matthew Costello in The Space Gamer #63.
---

COMPONENTS
1
folding cardboard mapboard
154
die-cut counters
1
24 page rulebook
1
monster damage record sheet
2
six-sided dice

---
MAGAZINE REFERENCES
Magazine Issue
Date
Title (Subject)
Author
The Space Gamer #63
May-Jun 1983
"Capsule Reviews"
Matthew J. Costello
Fantasy Gamer #3
Dec-Jan 1983
"Classic Fantasy Boardgames Adapted for Solitaire Play" (variant)
Matthew Costello
Fantasy Gamer #4
Feb-Mar 1984
"Murphy's Rules" (humor)
Steve LaPrade
Fantasy Gamer #5
Apr-May 1984
"Murphy's Rules" (humor)
Steve LaPrade
---

DOWNLOADS
BACK IN-PRINT!*
This game is IN-PRINT and not available for download.
Please do not e-mail asking for copies of this game.
Please do not post or download copies of this game.

*But please DO visit the Flatlined Games website to purchase
their modern, high quality update of Dragon Rage.


Please read the entire Distribution Agreement
before downloading any files from this site.
---

since April 9, 2004
The Dwarfstar games BARBARIAN PRINCE, DEMONLORD, GOBLIN, GRAV ARMOR, OUTPOST GAMMA, and STAR VIKING are copyright © by Reaper Miniatures.
All other company names, game names, artwork, publications and other products are copyrighted, trademarked and/or registered as applicable by their rightful owners.
All other contents of the Dwarfstar Games site are copyright © 2004 by Joseph Scoleri III.