---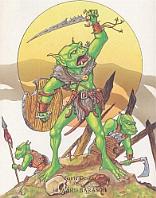 GOBLIN
A Fantasy Game of Raiding and Plunder
© 1982, © Reaper Miniatures
Designed by Howard Barasch. Developed by Howard Barasch and Arnold Hendrick.
Graphic Design and Box Cover Painting: David Helber. Counter and Map Artwork: Tom Maxwell.
---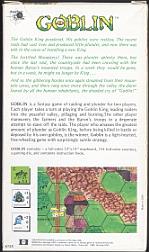 The Goblin King pondered. His goblins were restless. The recent raids had cost lives and produced little plunder, and now there was talk in the caves of installing a new King.
The fortified Monastery! There was plunder aplenty there, but since the last raid, the countryside had been crawling with the human Baron's mounted troops. In a week they would be gone, but in a week, he might no longer be King . . .
And so the gibbering hordes once again streamed from their mountain caves, and there rang once more through the valley the alarm feared by all the human inhabitants, the dreaded cry of "Goblin!"
GOBLIN is a fantasy game of raiding and plunder for two players. Each player takes a turn at playing the Goblin King, leading raiders into the peaceful valley, pillaging and burning. The other player maneuvers the farmers and the Baron's troops in a desperate attempt to stave off the raids. The player who amasses the greatest amount of plunder as Goblin King, before being killed in battle or deposed by his own goblins, is the winner. Goblin is a light-hearted, free-wheeling game with surprisingly subtle strategy.
GOBLIN contains -- a full-color 12"x14" mapboard, 154 full-color counters, a gaming die, and complete instruction book.
---
"The type of situation portrayed sets this game apart from the run-of-the-mill battle game.
It is worth looking into." - Steve List in Fantasy Gamer #2.
---

COMPONENTS
1
folding cardboard mapboard
154
die-cut counters
1
24 page rulebook
1
status sheet
1
six-sided die

---
MAGAZINE REFERENCES
Magazine Issue
Date
Title (Subject)
Author
Fantasy Gamer #2
Oct-Nov 1983
"Capsule Reviews"
Steve List
---

DOWNLOADS
PLEASE NOTE:
These games and files are NOT released into the public domain.
You MAY NOT not sell these files or charge a fee for access to them.
You MAY NOT distribute these files except as authorized by Reaper Miniatures.
PLEASE RESPECT THE TERMS OF THE DISTRIBUTION AGREEMENT
so that these files can remain available for free download.
Please read the entire Distribution Agreement
before downloading any files from this site.
By downloading any files from this site, you are certifying
that you have read the agreement and will abide by its terms.
Download ZIP of all recommended game files
* The recommended file downloads are marked with an asterisk *
Thanks to Ron Shirtz, we now have a "remastered" counter sheet - download the jpeg below!
---

since April 9, 2004
The Dwarfstar games BARBARIAN PRINCE, DEMONLORD, GOBLIN, GRAV ARMOR, OUTPOST GAMMA, and STAR VIKING are copyright © by Reaper Miniatures.
All other company names, game names, artwork, publications and other products are copyrighted, trademarked and/or registered as applicable by their rightful owners.
All other contents of the Dwarfstar Games site are copyright © 2004 by Joseph Scoleri III.