---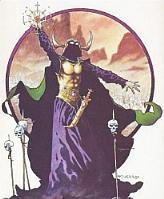 DEMONLORD
The Epic Game of Sorcery and Conquest
© 1981, © Reaper Miniatures
Design and Development: Arnold Hendrick.
Graphic Design: David Helber ( Box and Map), Cynthia Millan with David Helber (Counters), Arnold Hendrick with Cynthia Millan (Rules). Map Artwork: David Helber. Box Illustration: Charles Vess.
---
After centuries of sleep, the Demon Empire once more sends forth its hideous armies to conquer the lands of men. Desperate fighters stand with bow and shield against the goblin hordes which blacken the fertile valleys. The wizards and priests are called together in a desperate attempt to counter the Demonlord's dark magicks. But the balance of power lies with the neutral kingdoms. Will the Dwarven King, the Cloud Prince of Lyung, and the mysterious Ancients join with the forces of light, or will they cast their lots with the dark host commanded by the shadowy presence of the DEMONLORD. . .
DEMONLORD is a game of strategy for two players. It vividly recreates the grand sweep of empires in conflict in an age of sorcery and enchantment. Infantry and cavalry sweep across the land to meet in battle or besiege fortresses, as winged troops wheel overhead. Priests invoke friendly spirits, as magicians prepare potent battlefield magic, or summon great beasts to their aid. And controlling it all, the dread Demonlord, and the Captains of the Hosar alliance with their retinue of personalities and special powers.
DEMONLORD contains -- a full color card stock mapboard, 12"x14"; 154 full color counters; a die; instruction folder.
PLAY LEVEL - Intermediate/Advanced
---
"Overall, Demonlord is quite a buy. I recommend it." - Aaron Allston in The Space Gamer #46.
"Demonlord gives a true sword and sorcery feel." - John D. Burtt in Campaign #108.
"...well designed, physically attractive, and combines a broad scope with an intelligent and appropriate use of detail."
- Tony Watson in Dragon #59.
---

COMPONENTS
1
folding cardboard mapboard
154
die-cut counters
1
24 page rulebook
1
charts and order of battle sheet
2
six-sided dice

---
MAGAZINE REFERENCES
Magazine Issue
Date
Title (Subject)
Author
The Space Gamer #46
Dec 1981
"Capsule Reviews"
Aaron Allston
Ares #12
Jan 1982
"Games" (capsule review)
Steve List
Dragon #59
Mar 1982
"Epic Game of Sorcery?" (review)
Tony Watson
Campaign #108
Mar-Apr 1982
"Thumbnail Analysis" (review)
John D. Burtt
---

DOWNLOADS
PLEASE NOTE:
These games and files are NOT released into the public domain.
You MAY NOT not sell these files or charge a fee for access to them.
You MAY NOT distribute these files except as authorized by Reaper Miniatures.
PLEASE RESPECT THE TERMS OF THE DISTRIBUTION AGREEMENT
so that these files can remain available for free download.
Please read the entire Distribution Agreement
before downloading any files from this site.
By downloading any files from this site, you are certifying
that you have read the agreement and will abide by its terms.
Download ZIP of all recommended game files
* The recommended file downloads are marked with an asterisk *
Thanks to Greg Lovinski, we now have several improved files that you will want to check out!
The Lovinski Files - Remastered and Revised Game Files
Item
Type
Date
Size
Comments
* Counters
pdf file
12/14/04
1453k
Remastered and errata corrected
One Piece Map
jpeg image
08/13/04
1364k
Remastered with graphics upgrades
* Map half 1
jpeg image
08/13/04
690k
Remastered with graphics upgrades
* Map half 2
jpeg image
08/13/04
701k
Remastered with graphics upgrades
* Charts
pdf file
08/17/04
3582k
Completely redone, printer friendly
One Piece Map
jpeg image
08/10/04
2250k
Remastered, crease lines removed
Map half 1
jpeg image
08/10/04
1128k
Remastered, crease lines removed
Map half 2
jpeg image
08/11/04
1130k
Remastered, crease lines removed
---

since April 9, 2004
The Dwarfstar games BARBARIAN PRINCE, DEMONLORD, GOBLIN, GRAV ARMOR, OUTPOST GAMMA, and STAR VIKING are copyright © by Reaper Miniatures.
All other company names, game names, artwork, publications and other products are copyrighted, trademarked and/or registered as applicable by their rightful owners.
All other contents of the Dwarfstar Games site are copyright © 2004 by Joseph Scoleri III.