---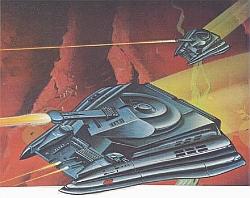 GRAV ARMOR
A Game of Armored Combat on Far-Flung Planets
© 1982, © Reaper Miniatures
Designed and developed by Arnold Hendrick.
Graphic Design: David Helber, with Tom Maxwell. Cover Art: Bob Depew.
---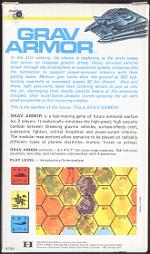 In the 31st century, the silence is deafening as the tanks sweep into action on noiseless gravitic drives. Heavy armored vehicles streak through the stratosphere at supersonic speeds, dropping into the battlezone to support power-armored infantry with their gatling lasers. Medium grav tanks skim the ground at 500 kph, hurling mag-bolts at concealed targets 50 km distant. Here and there, light grav-tanks leave their covering terrain to pop up into the air, discharging their deadly particle beams at the advancing troopers, their multi-barrel phalanx turrets spraying the air with small projectiles to foil incoming missiles.
This is the warfare of the future. This is GRAV ARMOR!
GRAV ARMOR is a fast-moving game of future armored warfare for 2 players. It realistically simulates the high-speed, high casualty combat between streaking gravitic vehicles, surface-effects craft, supersonic fighters, orbital dropships and power-suited infantry. The modular map sections allow scenarios to be played on radically different types of planets (earthlike, molten, frozen or airless).
GRAV ARMOR contains -- Six 4"x7" full-color map modules, 154 full-color counters, two dice, and complete rules booklet with 5 scenarios.
PLAY LEVEL - Introductory/Intermediate
---
"Grav Armor is not a particularly innovative game, but it is certainly solid, well thought out,
and quite playable." - Tony Watson in Dragon #73.
"Despite these glitches, the game works, and it works well." - John Rankin in The Space Gamer #55.
"Grav Armor acquired the nickname of 'PanzerBlitz goes to the future'."
- Arnold Hendrick in The Space Gamer #55.
---


COMPONENTS
6
cardboard map sections
154
die-cut counters
1
24 page rulebook
1
charts and tables sheet
2
six-sided dice

---
MAGAZINE REFERENCES
Magazine Issue
Date
Title (Subject)
Author
The Space Gamer #55
Sep 1982
"Featured Review"
John Rankin
The Space Gamer #55
Sep 1982
"Designer's Notebook"
Arnold Hendrick
The Space Gamer #59
Jan 1983
"Grav Armor + 3" (scenarios)
Tony Watson
Dragon #73
May 1983
"A game to give tanks for" (review)
Tony Watson
The Space Gamer #65
Sep-Oct 1983
"Murphy's Rules" (humor)
Ben Sargent
---

DOWNLOADS
PLEASE NOTE:
These games and files are NOT released into the public domain.
You MAY NOT not sell these files or charge a fee for access to them.
You MAY NOT distribute these files except as authorized by Reaper Miniatures.
PLEASE RESPECT THE TERMS OF THE DISTRIBUTION AGREEMENT
so that these files can remain available for free download.
Please read the entire Distribution Agreement
before downloading any files from this site.
By downloading any files from this site, you are certifying
that you have read the agreement and will abide by its terms.
Download ZIP of all recommended game files
* The recommended file downloads are marked with an asterisk *
(Except for the scenarios, on pages 14 to 22 of the rules.)
Thanks to Ron Shirtz, we now have a "remastered" counter sheet - download the jpeg below!
Thanks to Markus Stumptner for the scenario specific maps!
---

since April 9, 2004
The Dwarfstar games BARBARIAN PRINCE, DEMONLORD, GOBLIN, GRAV ARMOR, OUTPOST GAMMA, and STAR VIKING are copyright © by Reaper Miniatures.
All other company names, game names, artwork, publications and other products are copyrighted, trademarked and/or registered as applicable by their rightful owners.
All other contents of the Dwarfstar Games site are copyright © 2004-2006 by Joseph Scoleri III.